Medieval Cooking
By Carolyn Boyd, Dublinia

Did you know that Dublin's streets tell us an awful lot about the Medieval diet and the way in which people living in the city cooked? Think of places like Fishamble Street – where fishmongers set up stalls close to the Liffey to sell their catch; or Cook Street – where large stone ovens were built to bake bread and cook larger cuts of meat to protect the wooden houses inside the city walls from the risk of fires.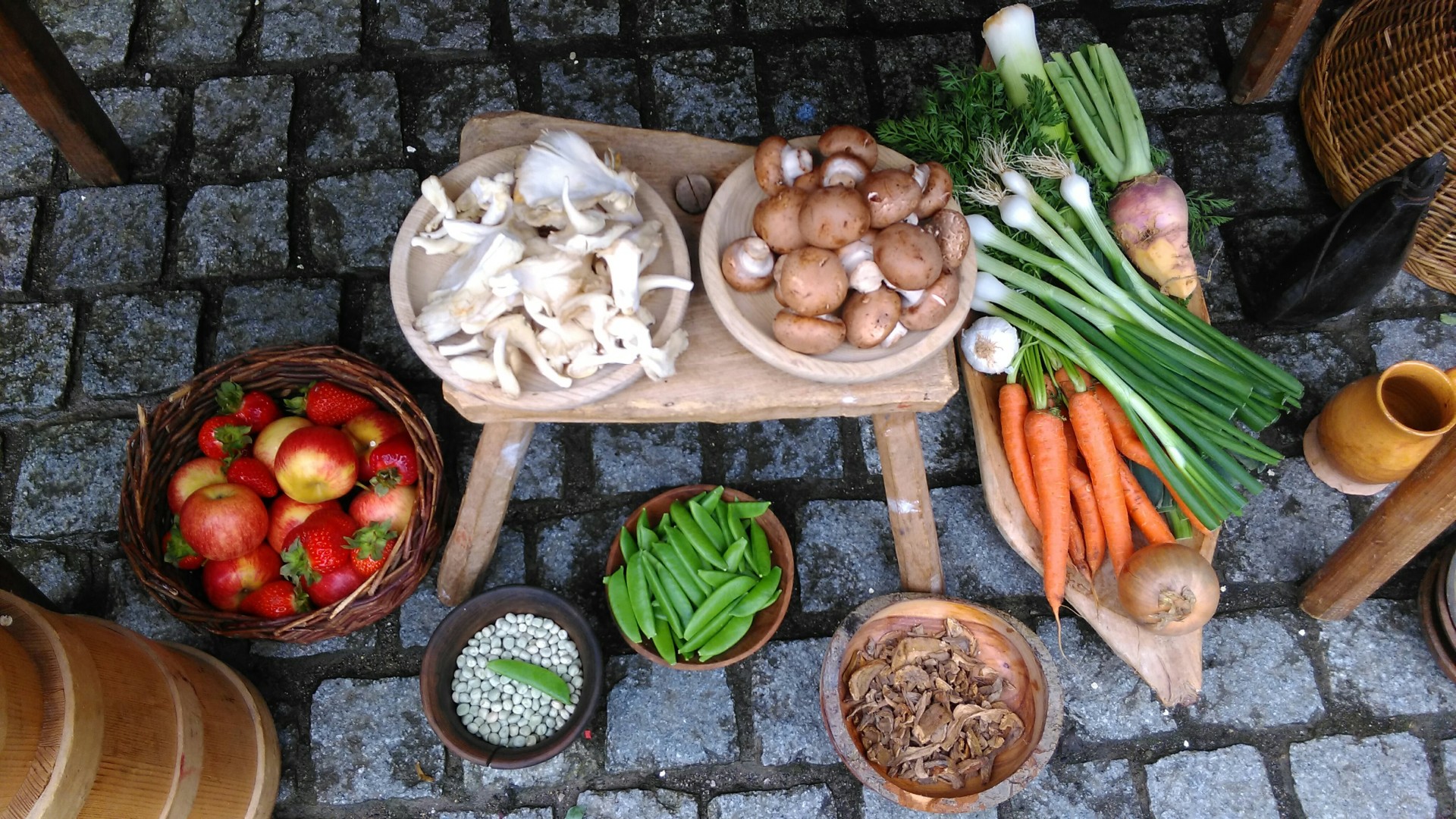 Wealthy families ate red meat with imported spices and wine, while poorer residents in the city ate mostly fish and brown bread. Oats and grains were used as thickeners in most meals as potatoes didn't arrive in Ireland until the late 16th century. People were clever around ways of using and preserving food. Servants ate small portions on thick slices of bread as plates. Once the food was eaten, the slice of bread would have soaked up any juices and flavours and could be eaten then as well to really fill you up.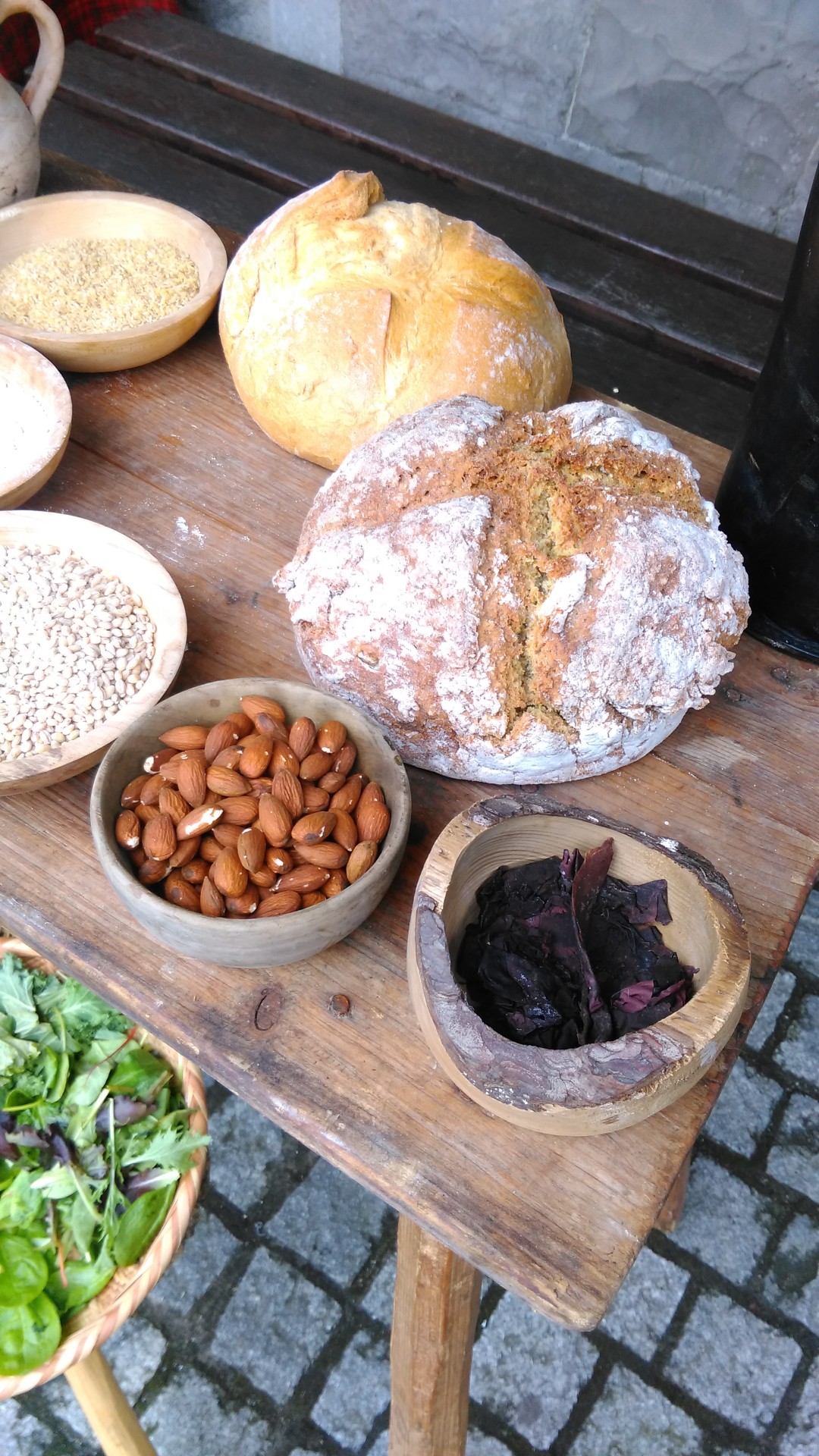 Although caution was always needed there was a small amount of day to day cooking done indoors in kitchens – a vat of pottage on the hearth being a common sight. Pottage was essentially a pot of left overs kept warm on the fire, that could be added to every day (meat, vegetables, grains) thereby using every scrap of food and minimising waste while also ensuring all the flavours and goodness from every meal was extracted. Are you interested in trying some dishes yourself? Our wonderful friends at Montague Heritage Services have given us some authentic recipes that you can have a go at!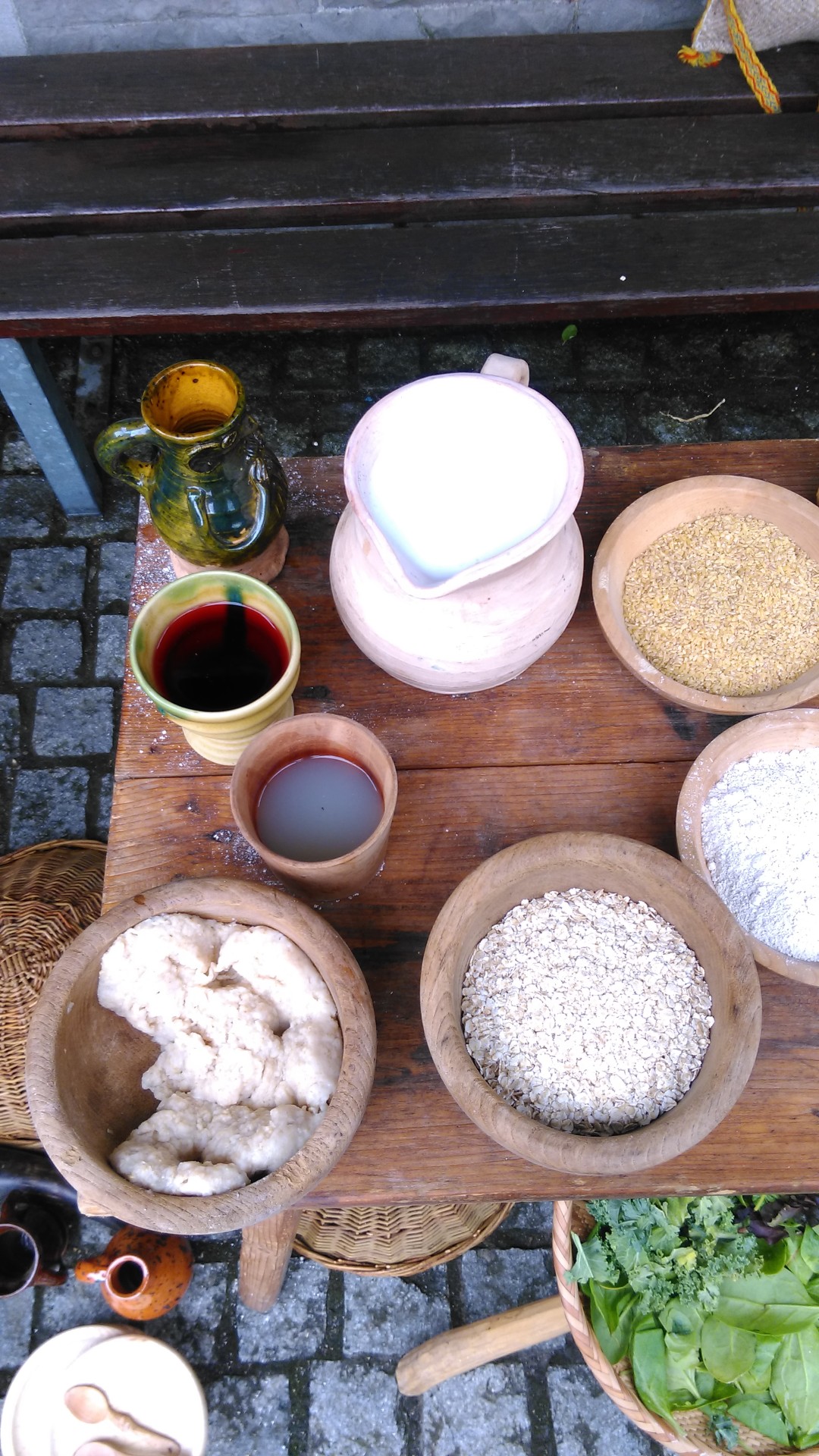 Oat Cakes
Oatcakes continue to be one of the most satisfactory and easy to make, medieval foods and can be made at home in a modern kitchen. Originally baked on a flat pan or on flat stones over an open fire or hearth, oatcakes were a simple way to make a bread/ dry biscuit which could be eaten as was or crumbled and added as a thickener to your pottage. It was also a great travel food or meal for people working in the field - just add copious amounts of butter and whatever sweet or savoury topping you prefer.
Ingredients
Method
To make, mix porridge oats and butter together, simply work from eye and try to get a feel for the tacky mix. Start with a small amount of each ingredient and add more until the consistency feels right. When you can create large meatball sized balls from the mix, flatten them in the palm of your hand to create even rounds thin enough to hold their shape but not too thick that they fail to cook in the centre. Sprinkle flour on a baking tray and place your oatcakes in the middle of a warm oven 180c for about 20 minutes. Check after 15 minutes especially if you have a fan oven, the flour on the tray will toast and make you think you have burnt them, you haven't - a golden brown colour let's you know when they are done.
Did you know, oats are a multitasking grain used for flour and used to thicken stew or pottage, our next recipe!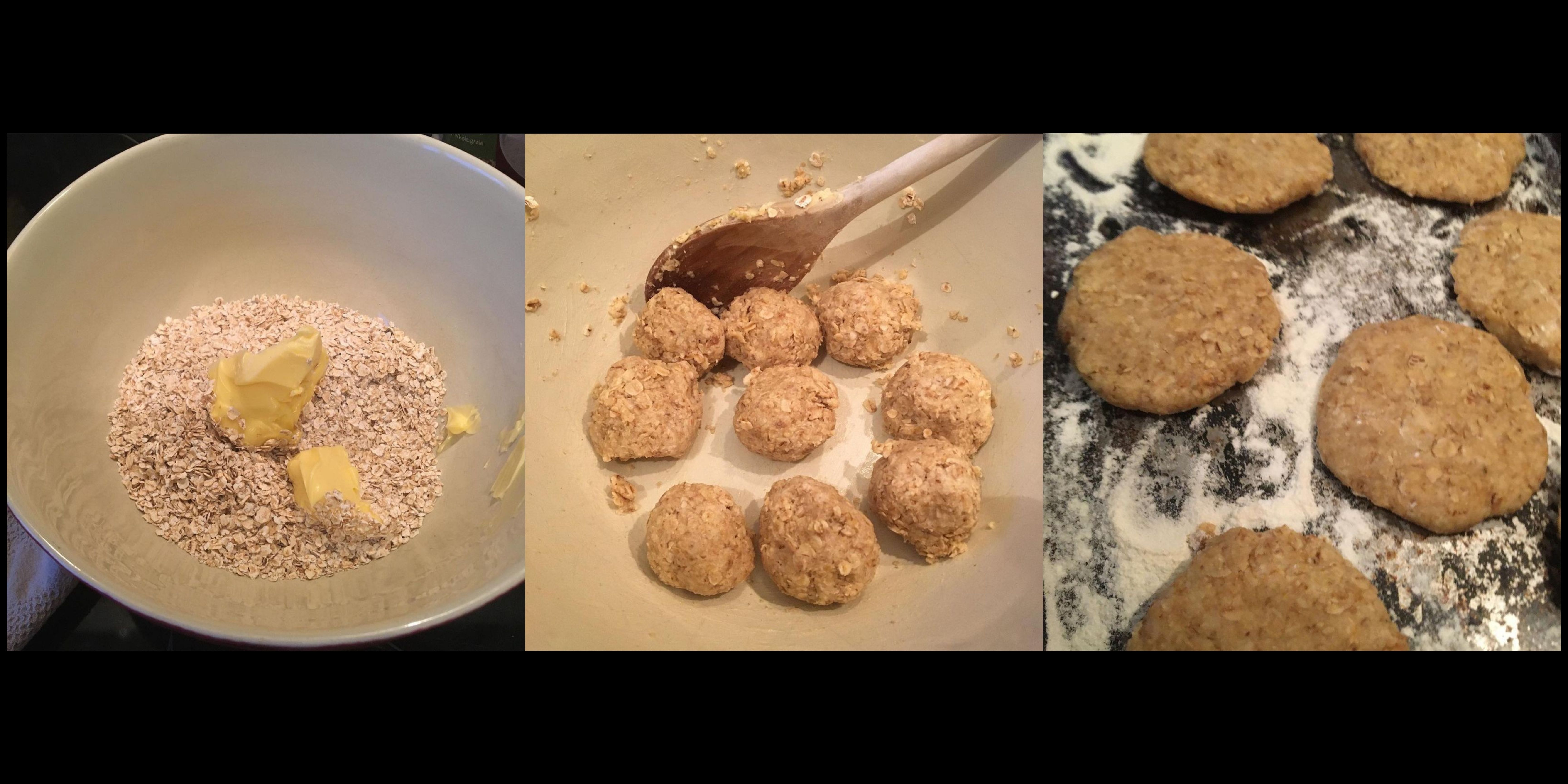 Source: Montague Heritage Services
Pottage
Pottage is like porridge but with extra ingredients. Pottage was made from whatever you could afford based on your status in life. Because it was a one pot meal, it was more likely to be simply added to on the daily. Most people living in towns such as medieval Dublin would have access to various meats and a pottage was a great way to extract the best flavour from even the poorest of cuts or joints. Today we enjoy beef stew but this would only have been common on feast days as the native Irish people used cattle as a display of their wealth. Within the walls of Dublin where citizens were considered subjects of the crown there was no such hindrance. Most families would have had a few hens, maybe a goat and even a pig but they would have to trade for beef, wild meats and fish.
Ingredients
Stewing beef
A selection of root vegetables (turnips, carrots),
Peas
Pearl barley
Garlic
Stock cube or stock
Salt and pepper
Oatcakes
Method
Our pottage can be made in a slow cooker at home or a large stew pot. The longer you can leave it cooking, the juicer and tastier it will be. Our ingredients are simple, beef - brown it in a pan first, potherbs - the medieval word for vegetables, mainly carrots, turnip, parsnips, onions, some peas and some wild garlic, if you can forage for it. Season to your taste with salt and pepper. Since we're starting from scratch you can use a stock cube with water or if you have some stock from a chicken use that as your base in the pot. You can use whatever vegetables you like but remember there were no potatoes in Ireland prior to Elizabethan times so we're going to add the wholegrain barley to bulk out our pottages. Slow cook on a low heat for 3-5 hours for melt in the mouth meat. Serve with your oatcakes to slop up the juice or crumble them in for extra texture.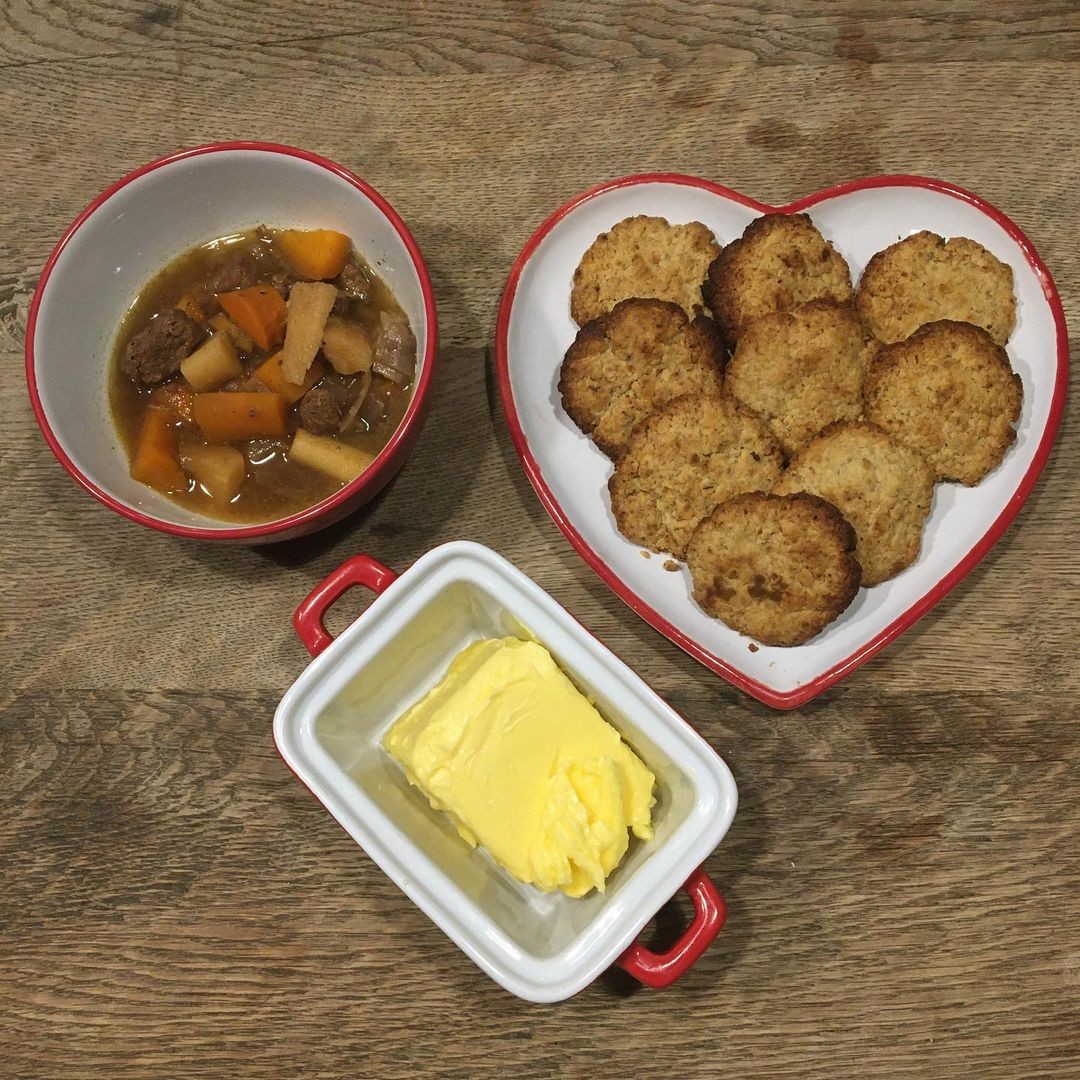 Source: Montague Heritage Services
And now if you are feeling brave…. Here are the ingredients for something a little more elaborate for you to try at your leisure!
Sweet and Sour Spiced Rabbit
6 rabbit joints (hind legs or saddle)
3 medium sized onions
Large spoonful of pork dripping or lard
A small handful of currants
1 ¼ goblets of red wine
¼ goblet of red wine vinegar
A spoonful of sugar
Good pinches of ground black pepper, cinnamon, and ginger
Salt to taste
1 ½ large spoonfuls of soft white breadcrumbs for thickening