Spinach and Cream Cheese Pie with Leafy Green Salad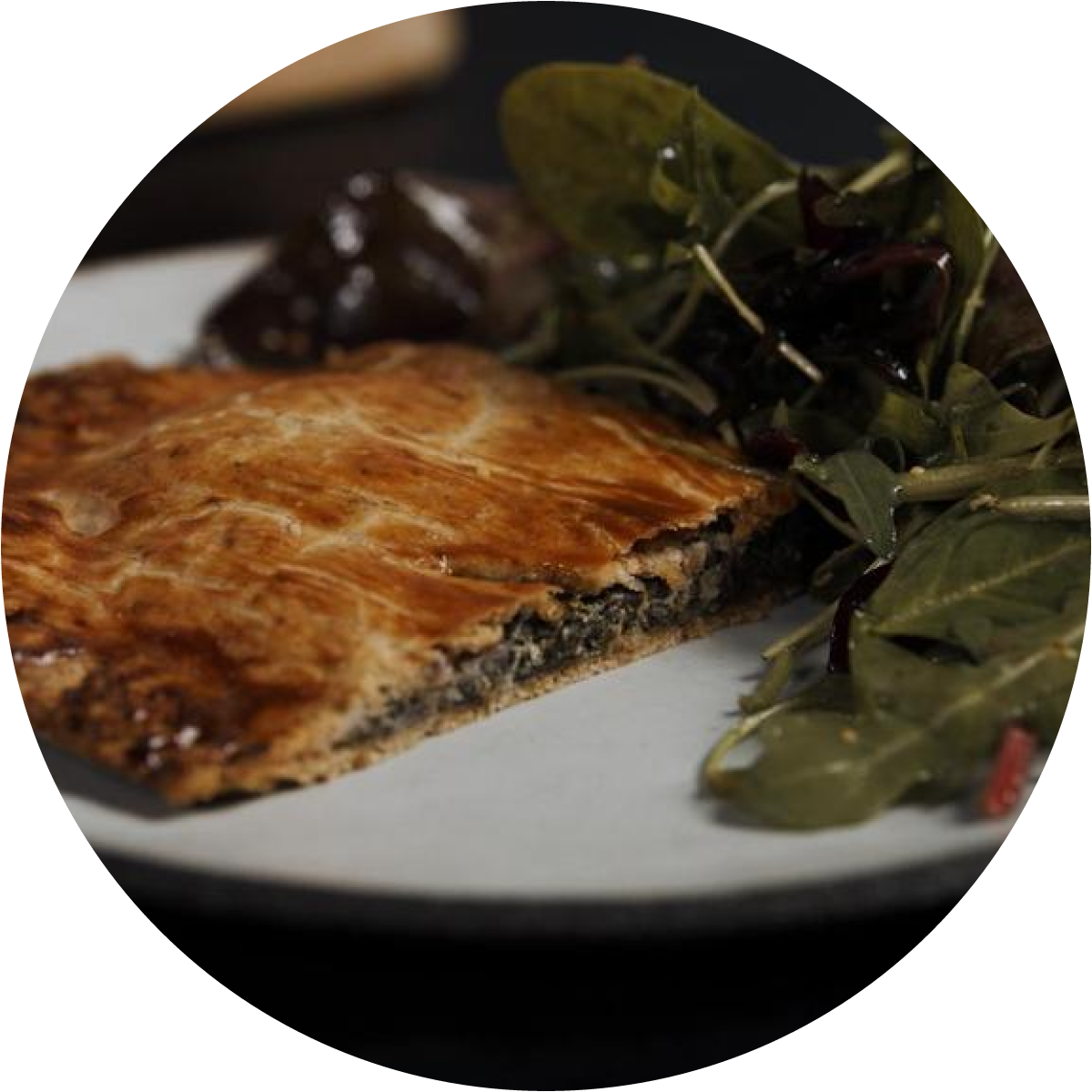 Implements
Bowl
Chopping Board
Chopping Knife
Saucepan
Ingredients
Pastry
120g salted butter cubed
150g plain flour
100g wholemeal flour (optional, 250g plain works well too)
Pinch of salt
Squeeze of lemon juice
½ tsp white wine vinegar
Filling
1 medium onion, finely diced.
3 garlic cloves, minced or crushed.
15g butter
Oil
300g baby spinach
200g cream cheese
Freshly grated nutmeg (pinch)
Zest of half a lemon
Salt and pepper to taste
1 egg, beaten for egg wash
Vinaigrette
1 tsp wholegrain mustard
1 garlic clove, minced or crushed
1 tbsp white wine vinegar
4-5 tbsp olive oil
Green Salad
250g mixed leaves of your choice
Method
Pastry
In a large bowl, combine butter, flour, and salt using the tips of your fingers to pinch the butter into the flour until the mix resembles breadcrumbs.
Add lemon juice and vinegar into flour and butter mixture.
If needed add a little bit of cold water to the mixture to bring together into a ball.
Wrap the ball of dough tightly in clingfilm or reusable food wrap. Flatten into a disk and place in the fridge to rest for at least 15 minutes, but preferably an hour. Alternatively, the dough can be made ahead and stored in the fridge up to three days in advance.
Filling
Wash your spinach in cold water and dry.
Throw a little bit of oil and butter into a pot on a medium heat. Then add the onions and garlic and cook until they are translucent and fragrant.
Add your spinach and stir to wilt down and the leaves become dark green.
Take the pot off the heat and turn off the stove, allow the spinach mixture to cool.
Once cool squeeze out as much moisture as possible.
On a cutting board, chop spinach mixture and place in a bowl.
To the spinach mixture add 200g cream cheese, and grate in a ¼ tsp of nutmeg and your lemon zest, give everything a good mix. Taste and season with salt and pepper if you like.
Assembling your pie!
Preheat your oven to 180 degrees.
Take your pastry dough out of the fridge and on a well-floured surface roll it out into a rectangle that is about as thick as two 1 euro coins (3-5mm if you'd like to measure).
Beat an egg to make an egg wash. Use your fingers or a pastry brush, to brush the egg wash on the edges of your dough.
With the short edge of the rectangle facing you, gently distribute the cooled spinach filling onto the bottom half of the pastry rectangle, leaving a 3cm gap from the edge.
Fold the top half of the dough over the bottom half with the filling and seal the edges by pressing together with your fingers. You can use a fork to crimp the edges if you would like.
Cut a few slits into the top of the dough to allow steam to escape when the pie is baking.
Brush the remaining egg wash over the dough.
Carefully, place your pie onto a lined baking sheet.
Bake in your oven for 20 to 30 minutes until golden brown.
Take out and cut into 6 pieces, and plate with your salad.
Vinaigrette
In a bowl add 1 tsp of mustard and grate in one clove of garlic.
Add 1 tbsp of vinegar and if available you can add lemon juice and a pinch of salt.
Whisk together, and while whisking slowly add the olive oil.
When it is thick you can stop whisking and add in your salad leaves and toss just before serving.