Butternut Squash and Prawn Risotto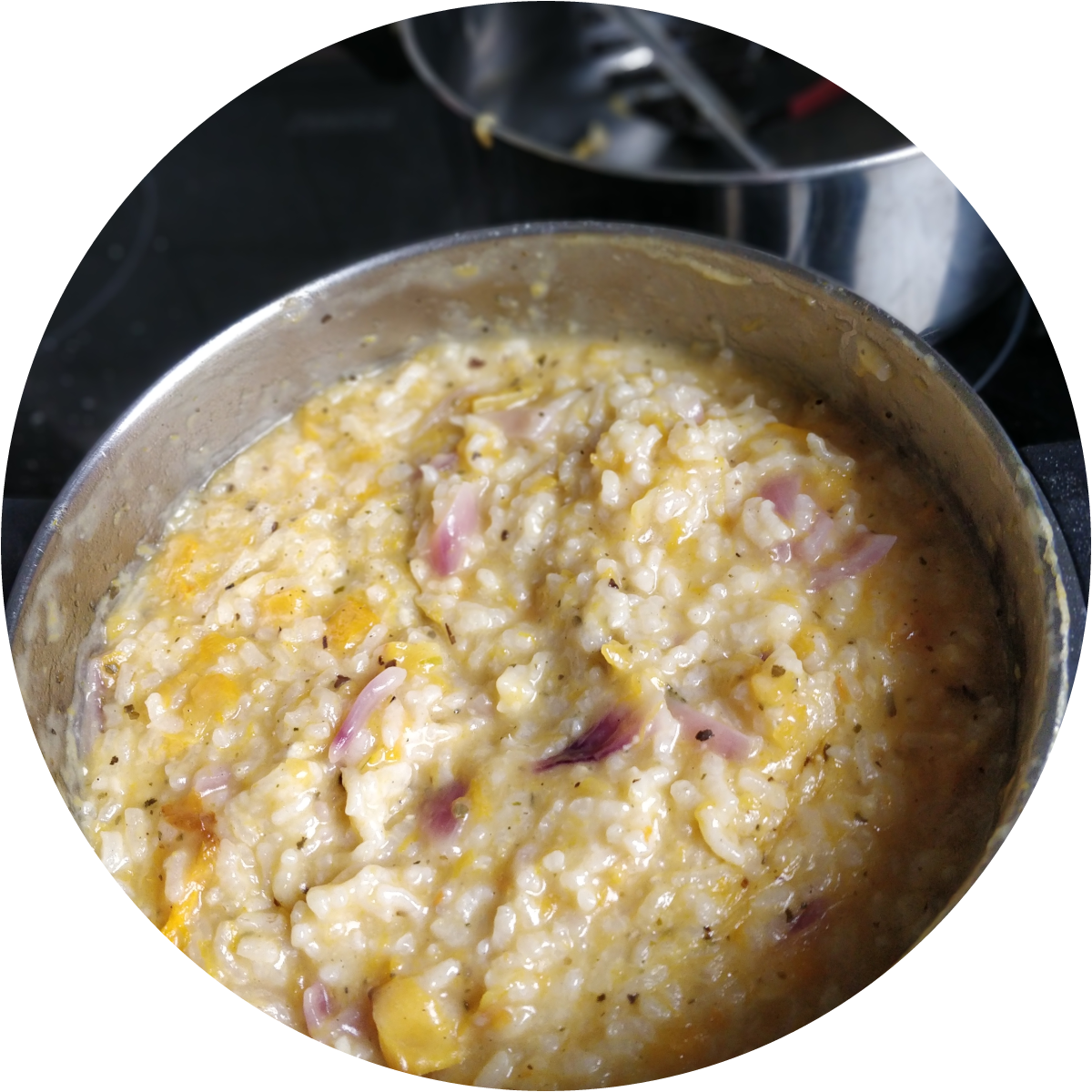 Implements
Bowl
Chopping Board
Chopping Knife
Frying Pan
Saucepan
Vegetable Peeler
Ingredients
1/2 a butternut squash
Sage
Olive oil
1 large red onion
4 cloves of garlic
300g of prawns
Salt and pepper to taste
1/2 a bag of arborio rice
100ml of dry white wine
1 litre of vegetable stock
A knob of butter
100g of grated parmesan and/or grana padano
Method
Peel and chop the butternut squash into small pieces and put in a roasting tin covered in olive oil and sage and roast for twenty minutes at 200C.
While the squash is roasting, chop the onion and garlic and simmer with the butter in a pan. Once the onion and garlic has cooked for a few minutes, add the prawns and cook for another five minutes or so until some of the liquid from the prawns has evaporated.
Add salt and pepper at this point
Add the rice to the mixture, being careful not to let it burn. At this point add half of the wine and keep stirring. Once the wine has evaporated, turn the pot to a low heat and begin to add the stock, one ladle at a time.
Slowly add the stock bit by bit, stirring the pot constantly so that the rice soaks up the stock.
Add the rest of the wine.
Once the butternut squash has roasted for about twenty minutes, remove it from the oven and mash with a vegetable masher.
As you add the stock, add in some of the butternut squash also and blend it into the rice.
Once the majority of the stock has been added and the dish has thickened, stir in the cheese and some extra butter if desired. Add any extra salt and pepper and once the full litre of stock has been absorbed, take the risotto off the heat, and serve with extra parmesan on top.